Home

›

Recipe- Punjabi Style Chole Bhatura
Recipe- Punjabi Style Chole Bhatura
By: Kratika Fri, 24 June 2022 5:46 PM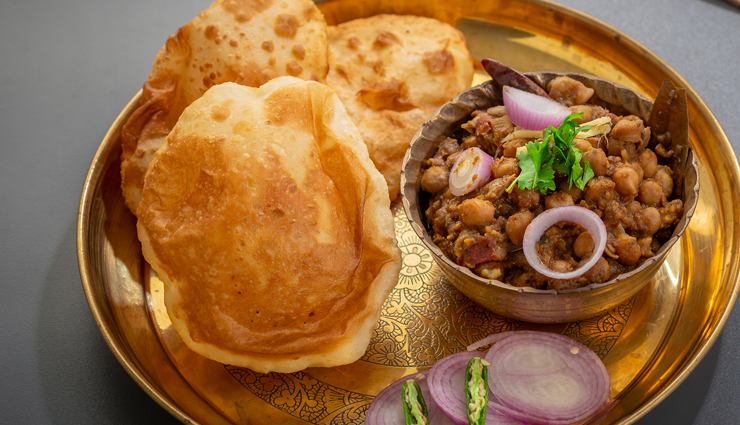 This is one of the most popular street food dishes in the Punjab. It can be found on every street corner and is so satisfying. The chole is the the chickpeas element which are tangy and hot, cooked in a masala made with tea and tamarind. The chole are served with the softest, fluffiest bread called bhatura to help you scoop up every last bit.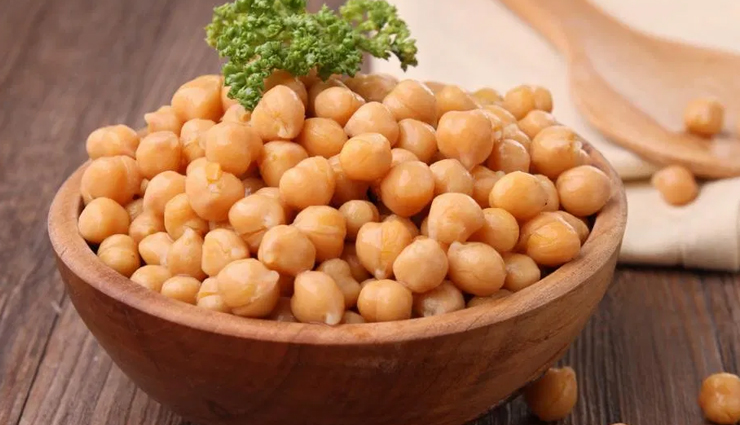 Ingredients

Chole

400g tin of chickpeas
2 black teabags in mug with boiling water poured over
5cm piece tamarind, soaked in about 100ml boiling water
1 tbsp ghee
1 tsp cumin seeds
2 medium onions, thinly sliced
4 cloves of garlic, sliced
4cm piece ginger, grated
2-3 green chillies, sliced lengthways
400g tin of plum tomatoes
1 tsp Kashmiri chilli powder
1tsp turmeric
1 tsp coriander seeds, crushed
2 tsp cumin seeds, crushed
½ tsp black salt
Salt to taste
½ tsp garam masala
1 tbsp lemon juice
1 heaped tsp amchoor / chaat masala
Fresh coriander, roughly chopped for garnish

Bhatura

250g self-raising flour, sifted
1 tsp yeast
1 tsp sugar
Pinch of salt
2-3 tbsp yoghurt
milk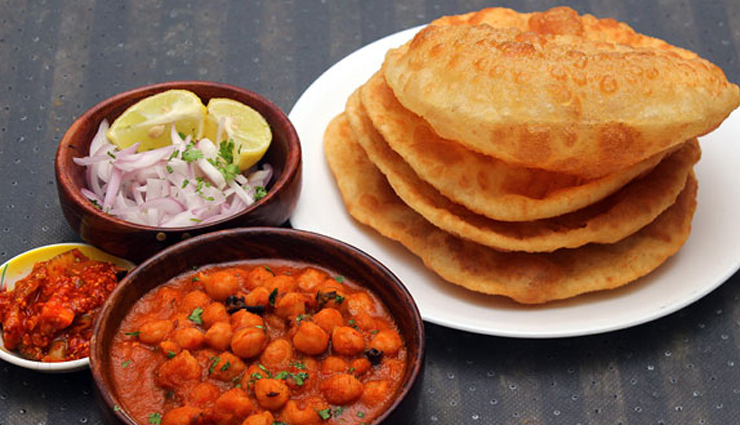 Method

Chole

- In a heavy-bottomed saucepan, heat the ghee and add the cumin seeds. Once they sizzle and the sliced onions and cook for 5-10 minutes until they turn golden.

- Stir in the sliced garlic and keep stirring until it starts to change colour. Add the ginger and sliced chilli.

- Fry for a minute and then add the tomatoes and tea water before sieving in the tamarind water. Leave this to simmer away and cook down until the tomatoes and onions start to combine to create a thick masala.

- Add the chilli powder, ground coriander, cumin and turmeric. Stir for a few minutes until the masala is aromatic and thick.

- Drain the water from the tinned chickpeas and place into the masala. Add a little water and leave to cook on a gentle heat for 5-10 minutes.

- Sprinkle in the black salt and leave to cook for about 5 minutes.

- Keep an eye on the pan and stir every few minutes. Add more liquid if required.

- Check the seasoning and adjust if required. Make sure the chickpeas are nice and soft and the sauce is thick.

- Add the garam masala and a good squeeze of fresh lemon juice and sprinkle over the amchoor.

Bhatura

- Add the yeast, sugar, salt and yoghurt in to a roomy mixing bowl

- Mix everything together, using your fingers. Once mixed through, start to add a little milk if required so you end up with a soft dough. Knead the dough to firm it up.

- Once the dough is ready, put a little oil on your hand and wipe over the top of the dough to stop it drying out.

- Cover the bowl with clingfilm and a clean tea towel and leave in a warm place for an hour.

To Cook

- Heat oil in a wok (karahi) or a wide frying pan.

- Roll out a small ball of dough - make sure it's not too thin so it gets nice and fluffy.

- Check the oil is hot by dropping a tiny bit of dough in - this should sizzle and rise straight away.

- When the oil is ready, gently slide one bhatura into the oil and move it around gently with a slotted spoon. Once cooked, it will begin to fluff up and float - they should be creamy in colour, and very light and fluffy in texture.

- Remove from the oil and set on some kitchen paper.

To Serve

- Top the chole with sliced red onions, fresh chopped coriander, sliced green chillies and a sprinkle of amchoor or chaat masala.
Tags :