Home

›

Recipe- Restaurant Style Paneer Tikka
Recipe- Restaurant Style Paneer Tikka
By: Kratika Wed, 05 May 2021 3:13 PM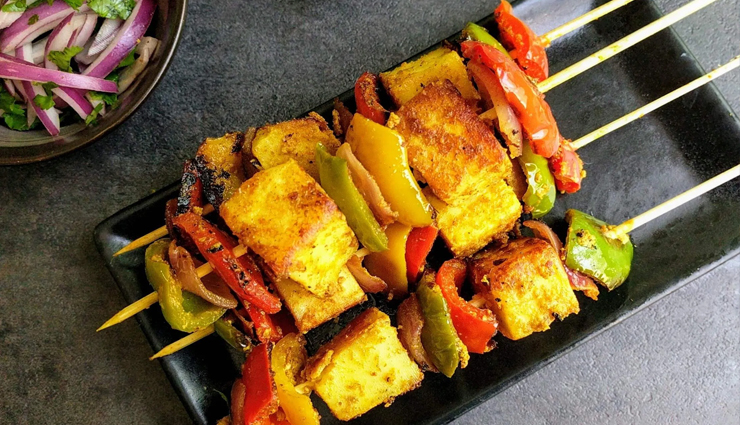 Paneer Tikka is an alternative to chicken tikka for vegetarians. Paneer Tikka is one of the popular Indian dish. Paneer Tikka is an Indian dish made from chunks of paneer marinated in yogurt with spices and grilled in a tandoor. Paneer Tikka is not only in India but also very popular dish worldwide in mostly all Indian restaurants.

Chunks of paneer, a type of fresh cheese, are marinated in yogurt base mixture and are then arranged on a stick with capsicums, onions and tomatoes. These sticks are grilled in a tandoor and the dish is thereafter served hot, seasoned with lemon juice and chaat masala. It is sometimes accompanied by salad or mint chutney. Tikka dishes traditionally go well with mint chutney. The paneer, though tender, has a crisp singe on the surface.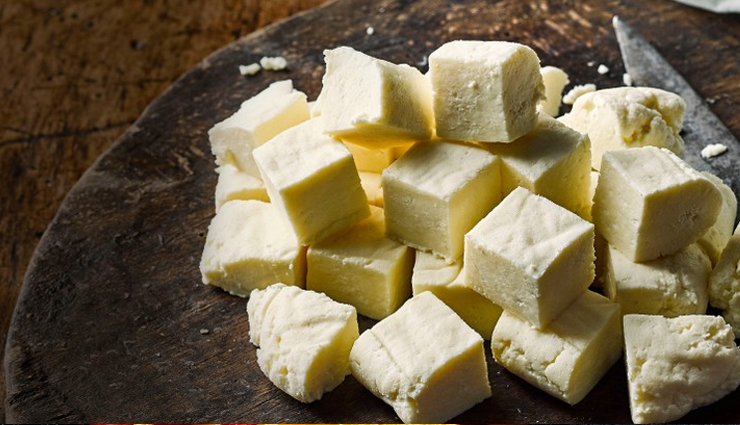 Ingredients

1 ½ cup Paneer Cubes
1 cup diced Capsicum or Bell Pepper (I used Red, yellow, orange and Green Mixed Pepper)
1 medium sized Onion diced
¾ cup Thick Yogurt/Dahi or Hung Curd
1 tsp Red Chili Powder
½ tsp Turmeric Powder
1 tsp Coriander Seeds powder
½ tsp Cumin Seeds Powder
1 tsp Garam Masala
½ tsp Black salt
1 tsp Crushed Kasuri Methi
Pinch of Hing
1 tbsp Tandoori Masala (optional)
1-2 tsp Grated Ginger
1-2 tbsp Lemon Juice
Salt
Oil for Brushing or Oil Spry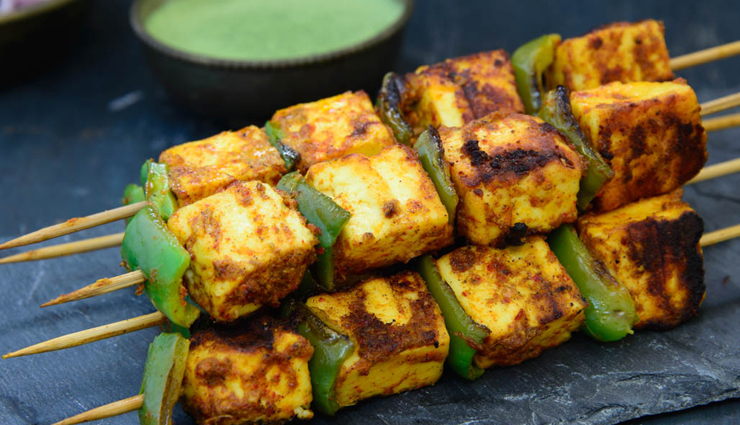 Method

* Take a mixing bowl. Add thick yogurt and whisk it very well. Add red chili powder, turmeric powder, garam masala, tandoori masala, cumin-coriander seeds powder, black salt, kasuri methi, pinch of hing and salt. Mix all these ingredients properly.

* Add grated ginger and lemon juice, mix it again and make a smooth paste.

* Add paneer cubes, diced mixed peppers and diced onion into the yogurt mixture and mix it well and keep aside for 10minutes (All veggies should be coated properly).

* Take a wooden or metal skewers. Now insert the prepared or coated veggies as per your choice. You could refer the pics for how I arranged it.

* Once all done then place all skewered veggie sticks on a plate and keep it into the fridge for 20-30 minutes.

* Now preheat the oven on highest temperature, take a baking sheet and cover it using aluminum foil paper, then arrange the prepared veggie sticks on it, spray or brush the oil on it and bake it till becomes golden brown.

* If you do not want to use an oven then you can also roast the prepared veggie sticks on a griddle or tawa using little oil.

* Just make sure all sides should be roasted properly or until it becomes golden brown.

* Now Paneer Tikka is ready. You can sprinkle some chaat masala, lemon juice on it and serve the delicious Paneer Tikka with green mint chutney.
Tags :