Home

›

Recipe - Stop Your Late Night Food Carvings With No Bake Roti Wrap
Recipe - Stop Your Late Night Food Carvings With No Bake Roti Wrap
By: Pinki Mon, 27 Jan 2020 10:28 PM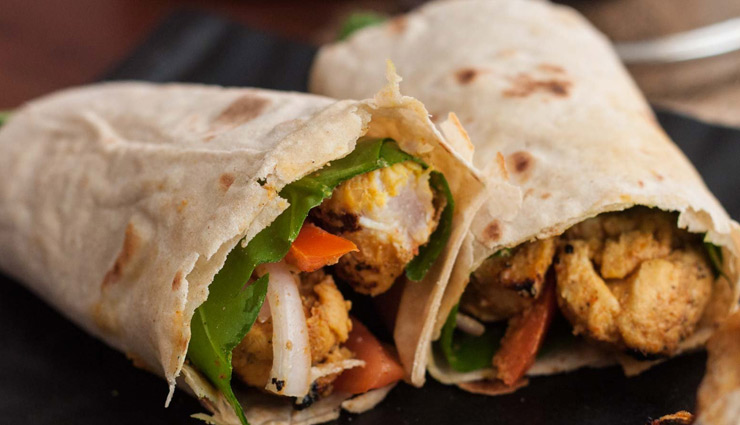 Veg roti wraps are perfect for late night hunger drives.

Ingredients

Refined Flour 4
Carrot
Carrot grated 1 medium
Green peas parboiled and crushed 1/4 cup
Oil 1 tablespoon
Cumin seeds 1/2 teaspoon
Ginger finely chopped 1/2 inch piece
Green chilli finely chopped 1
Red chilli powder 1/4 teaspoon
Turmeric powder a pinch
Garam masala powder 1/4 teaspoon
Salt to taste
Potatoes boiled and mashed 2 large
Fresh coriander leaves chopped 1 tablespoon
Dry mango powder (amchur) 1/2 teaspoon
Green chutney 4 teaspoons
Onion sliced 1 medium
Vinegar 1 teaspoon
Chaat masala to taste

Method

* Heat oil in a non-stick pan. Add cumin seeds and sauté lightly. Add carrot, green peas, ginger, green chillies, red chilli powder, turmeric powder, garam masala powder, salt and sauté on medium heat for two minutes.

* Transfer onto a plate and cool. Add mashed potatoes, coriander leaves and amchur powder and mix well. Adjust seasoning.

* Divide this mixture into eight portions and and shape into four-inch long cylinders and shallow fry in sufficient hot oil till light golden. Drain on absorbent paper and set aside.

* To prepare the frankie, place a roti on a flat working surface, spread a teaspoon of green chutney all over the roti.

* Place a potato roll on one side. Sprinkle some sliced onions, drizzle one fourth teaspoon of vinegar, sprinkle chaat masala over it and roll the roti.

* Similarly prepare the rest of the frankies, wrap in aluminum foil and serve immediately.

Tags :