Home

›

Recipe- Tasty And Healthy Sprouts And Spinach Kofta
Recipe- Tasty And Healthy Sprouts And Spinach Kofta
By: Kratika Mon, 13 Sept 2021 4:59 PM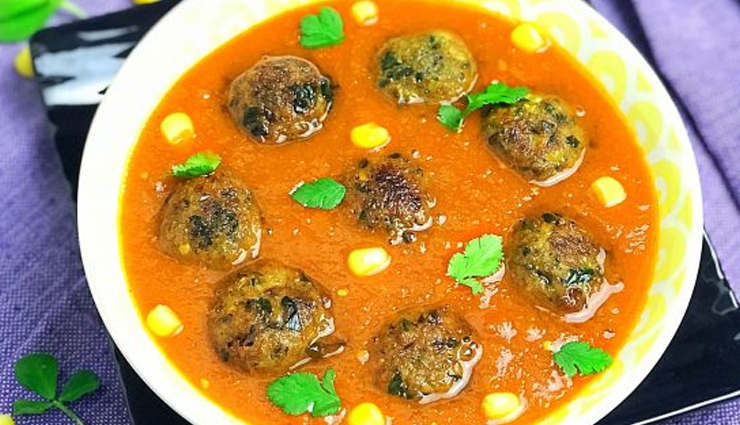 Healthy koftas prepared by combining steamed moong-sprouts with healthful veggies; then pan-frying them in just 2 tablespoons of oil rather than deep-frying and finally dunking them in a spicy gravy before serving. These koftas taste great with rice as well as roti.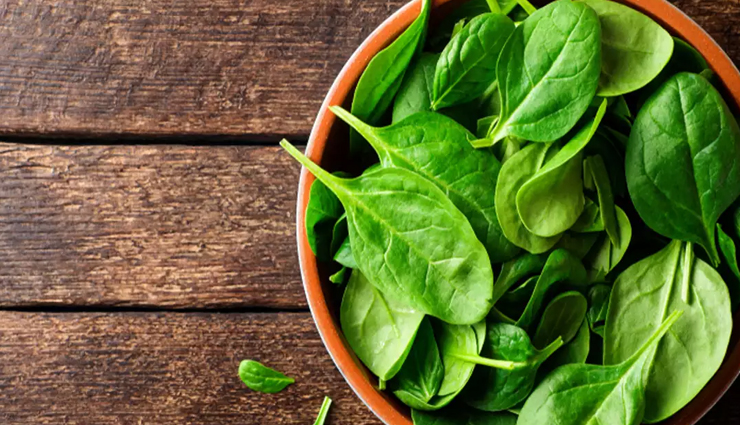 Ingredients

For Kofta

3/4 cup sprouted moong (green gram or green moong beans)
1/2 cup boiled potatoes (peeled and mashed)
1/2 cup finely chopped spinach
1/4 cup grated carrots (optional)
2 green chillies, finely chopped
1 teaspoon freshly ground ginger
11/2 teaspoon chaat masala
Salt to taste
1-2 tablespoons oil

For Gravy

2 onions, sliced
2 large tomatoes, chopped
1 teaspoon chopped garlic
1 teaspoon chopped ginger
1/2 teaspoon turmeric powder
1 teaspoon coriander powder
1/2 teaspoon cumin powder
1 teaspoon red chilli powder or to taste
1 small stick of cinnamon (about 1 inch)
5-6 cloves
6-8 black cardamom seeds
2 tablespoons oil
Salt to taste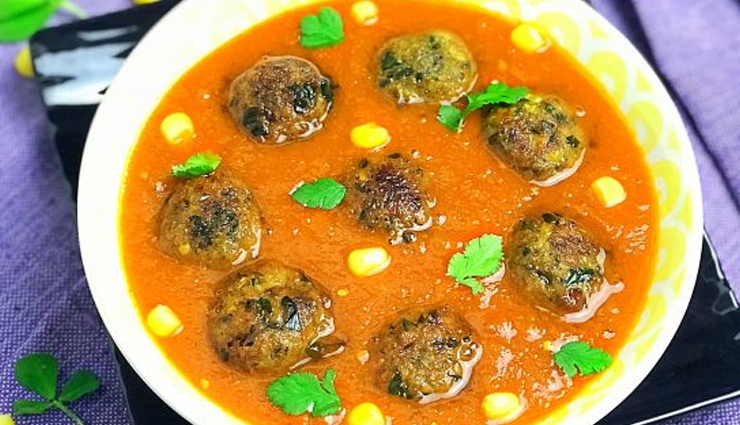 Method

* Add moong sprouts in a pressure cooker along with 1/3 cup of water and salt. Pressure cook on high heat for 2 whistles. Reduce the heat to low and cook for 2 minutes. Let the steam escape before opening the lid of pressure cooker. Let the sprouts cool to room temperature.

* For preparing the gravy, heat 1 tablespoon oil in a deep non-stick pan. Add the sliced onions, garlic , cinnamon, cloves and black cardamom seeds. Sauté for 3-4 minutes (while stirring continuously) or till the onions turn golden brown in colour. Keep aside and let it cool.

* Once cooled, add the contents of the pan to a grinder. Add the tomatoes, ginger, turmeric powder, coriander powder, cumin powder, red chilli powder and salt. Grind into a smooth paste.

* Heat 1 tablespoon oil in a deep-pan. Add the ground masala paste and keep sautéing until the moisture gets evaporated and oil starts oozing on the sides of the masala paste.

* Add about 11/2 cups of water or as required depending on how thick you would like the gravy. Mix well and let it boil. When it starts boiling, reduce the heat to low and cover the pan. Let the gravy simmer for 5-7 minutes. Turn off the heat and keep the gravy aside.

* Combine all the ingredients for koftas except oil in a large bowl. Mix well.

* Shape the mixture into small balls (koftas).

* Grease an appam pan and heat it. Place the koftas into the appam pan and cook on medium heat till golden brown from all sides.
* Apply little oil on the koftas using a silicon brush or a spoon before flipping them over. The koftas should be done in the appam pan in about 5 minutes.

* To serve, place the koftas in a large bowl and pour warm gravy over them. Serve immediately.
Tags :