Home

›

Recipe- Try Fruit Custard Dessert
Recipe- Try Fruit Custard Dessert
By: Sandeep Thu, 25 Jan 2018 08:12 AM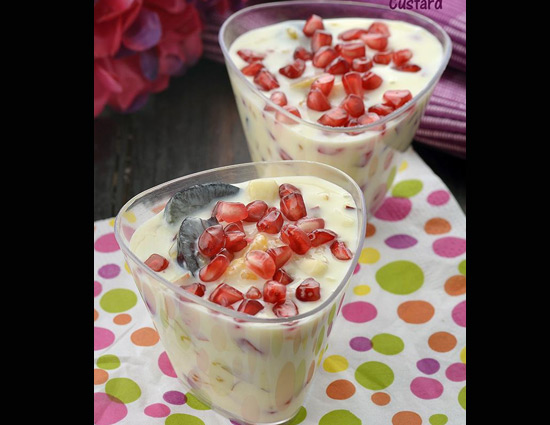 A simple milk based fruit sweet beverage which is typically consumed as dessert. Typically custard is prepared with egg yolk and cream, but in this recipe we talk about eggless readymade custard powder which is prepared from corn flour.

Ingredients

2 cups or ½ litre full cream milk
2 tbsp custard powder
3 tbsp cold milk
¼ cup sugar
¼ tsp cardamom powder / elachi powder

Fruits:

10 or ¼ cup green grapes, chopped
10 or ¼ cup red grapes, chopped
1 small sized or ¼ cup banana, chopped
¼ cup pomegranate seeds
1 small sized or ¼ cup mango, chopped
½ medium sized or ¼ cup apple, chopped

Method

* firstly, in a thick bottomed pan add milk.

* stir occasionally and get the milk to boil.

* meanwhile, in a bowl take 2 tbsp of custard powder. i have used vanilla flavour custard powder.

* and add 3-4 tbsp of milk and mix well.

*
stir continuously, making sure there are no lumps formed in it.

* once the milk has boiled, turn off the flame and pour the prepared custard mixture into it.

* also add sugar. adjust the amount of sugar if looking for more sweeter fruit custard.

* mix continuously, keeping the flame on low.

* the milk changes colour to dark yellow.

* furthermore, it thickens slightly. adjust the consistency by cooking for long time.

* transfer to a small bowl and cool completely.

* once the prepared custard milk has cooled completely, add chopped fruits of your choice.

* add, green grapes, red grapes, banana, pomegranate seeds, mango and apple.

* also add cardamom powder and mix gently.

* cover and chill for 2 hours or more.

* once the custard fruit salad has chilled, it turns more thick and creamy.

* add whipped cream or ice cream if required.

* finally, serve fruit custard chilled.
Tags :