Home

›

Recipe- Very Easy And Simple Vegetable Korma
Recipe- Very Easy And Simple Vegetable Korma
By: Pinki Fri, 05 Feb 2021 6:06 PM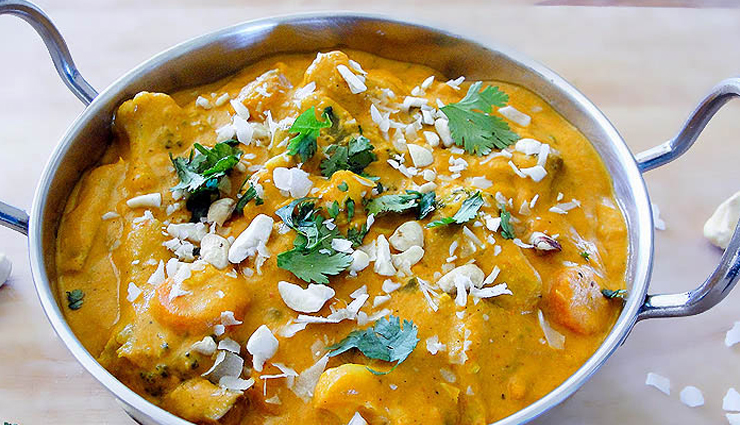 Vegetable korma is a very easy and simple recipe. We already seen aloo korma recipe. Today we are making hotel style vegetable korma that tastes just awesome. You can make this recipe with the ingredients easily available in your pantry. This is Karnatak style korma I am preparing. You can try this recipe at home .
Ingredients

1/2 cup Cauliflower florets
Finely chopped Beans
Sliced Carrot
Fresh peas
Chopped Potatoes
1/2 cup shredded fresh Coconut
1~2 dried Red chilies
4 Black peppercorns
2~3 Cloves
A small piece of Cinnamon
Oil
2 Cinnamon sticks
2 Cloves
2 Black peppercorns
Finely chopped Onion
1 tsp Coriander powder
1 tsp Garam masala
Red chili powder
Few Cashew nuts
Salt to taste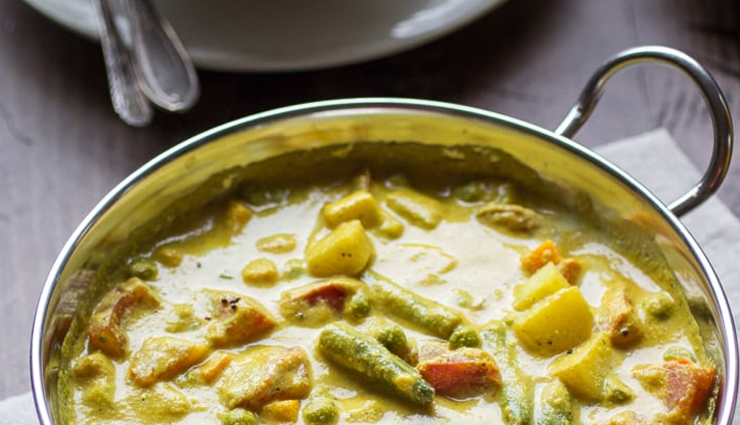 Method

* Take a cooker and add water at the base.

* Take flower, carrot, beans, carrot, peas, potatoes in a cooker pot.

* You can use veggies of your choice.

* Add water and close the lid.

* Cook on medium heat until just 1 whistle.

* Take fresh coconut, dry red chilies, black peppercorns, cloves, cinnamon, a little water in a
* blender jar and blend everything into a smooth paste.

* You can use dry coconut in place of fresh coconut.

* The masala is all-ready.

* Heat up oil in a pan. Add cinnamon, cloves, black pepper, onion, and fry until onion gets a light golden color.

* Add the blended masala, coriander powder, garam masala, red chili powder, and mix well.

* Fry everything for about 2-3 minutes.

* Add the cooked veggies, cashew nuts, salt and mix everything well together.

* Add water to adjust the consistency and simmer the korma for about 8-10 minutes.

* Veg korma is all-ready.

* It thickens up as time passes. So decide what consistency you want.

* This korma goes well with puri or bun.
Tags :