Home

›

Recipe- Make Your Weekend Dinner Special With Caprese Pasta Salad
Recipe- Make Your Weekend Dinner Special With Caprese Pasta Salad
By: Sandeep Thu, 30 Jan 2020 4:11 PM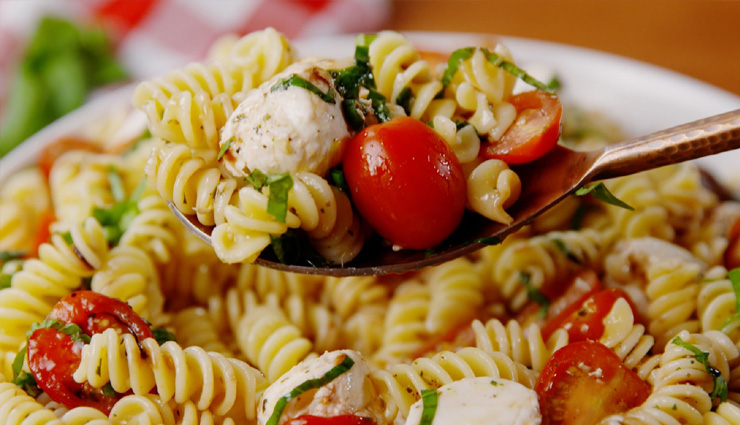 A simple Caprese pasta salad with a twist. Cook cherry tomatoes with olive oil for a few minutes and they create their own pasta sauce

Ingredients

6 ounces whole grain fusilli or rotini pasta
⅓ cup olive oil
2 pints cherry or grape tomatoes
½ teaspoon sea salt
8 ounces baby mozzarella balls (ciliegine), or one mozzarella ball
Several sprigs fresh basil (enough for 2 tablespoons chopped)
2 to 3 teaspoons white balsamic vinegar, to taste

Method

* Bring a large pot of salted water to boil and cook the pasta until al dente, according to package instructions. Drain and return the pasta to the pot.

* While the pasta is cooking, warm the olive oil in a large, non-reactive, heavy-bottomed pot or pan over medium heat. Add the tomatoes and ½ teaspoon sea salt. Cover the pot and cook, stirring occasionally, until most of the tomatoes have started to burst out of their skins and the olive oil has a light red hue (about 5 to 8 minutes).
* Toss the tomatoes and their sauce with the cooked pasta. Let the mixture cool for a few minutes while you slice the mini mozzarella balls in half (if you're using a large mozzarella ball, tear it into little pieces) and chop the basil into short little strips.

* Toss the mozzarella balls and basil into the pasta. Add the vinegar and salt to taste, and serve. This salad will keep well in the refrigerator for a few days. Leftovers are great chilled or at room temperature. You can also reheat the pasta if you don't mind the mozzarella melting (yum).

Tags :