Home

›

Recipe- Welcome Weekend With Oreo Cupcakes
Recipe- Welcome Weekend With Oreo Cupcakes
By: Sandeep Fri, 20 Mar 2020 00:00 AM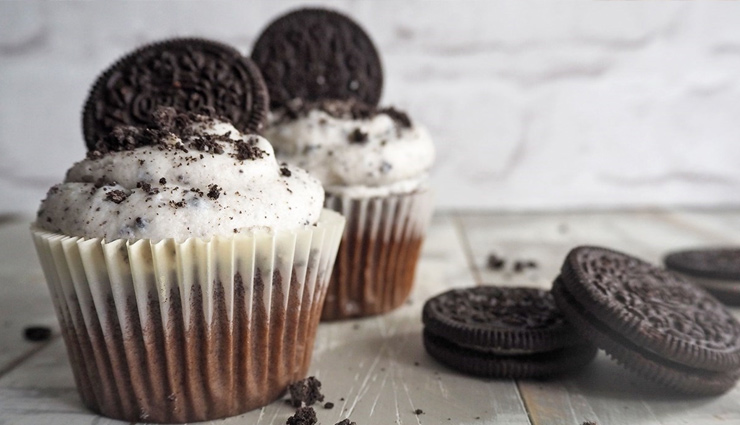 These easy-but-impressive cupcakes are soaked in fudge topping and finished off with Oreo cupcakes.

Ingredients

For the cupcakes

3 cups cake flour
1 tablespoon baking powder
1⁄2 teaspoon salt
16 tablespoons unsalted butter, at room temperature
2 cups sugar
5 large eggs, at room temperature
1 1⁄4 cups buttermilk, at room temperature
1 tablespoon vanilla extract
20 Oreo cookies (halves, with cream filling attached)

For the frosting

8 tablespoons butter, room temperature
1⁄2 cup vegetable shortening
4 cups powdered sugar (1 lb)
1⁄2 teaspoon butter flavoring or 1⁄2 teaspoon vanilla extract
6 tablespoons Oreo cookies, finely crushed
10 Oreo cookies, cut in half, for garnish

Method

* Preheat oven to 350°F and line a muffin pan with cupcake liners. Twist Oreos in half and set aside the extra cookies for crushing for the frosting. Place the side with cream filling in the bottom of each cupcake liner, cream-side facing up.

* Cream butter and sugar in the bowl of an electric mixer. Combine flour, baking powder and salt in a medium bowl. Add eggs, one at a time, beating after each addition. In a 2 cup measuring cup, combine the buttermilk and vanilla. Alternately add the dry ingredients and the liquid to the batter, beginning and ending with the dry ingredients.

* Fill lined cupcake tins with batter. Bake for 15-18 minutes, until tooth pick inserted comes out clean. Allow to cool 10 minutes in pan before transferring to a cooking rack.

* For the frosting, in the bowl of your standing mixer fitted with the paddle attachment (or using a hand mixer) cream the butter and shortening on medium-high speed until light and fluffy, about 2-3 minutes.

* Reduce the mixer speed to low and add the powdered sugar, about ½ cup at a time, until thoroughly mixed. Add the butter flavoring, and Oreo crumbs; mix well. Frost cupcakes as desired. Top cupcakes with half of an Oreo cookie, for garnish.
Tags :