Home

›

Summer Recipe- Beat The Mid Week Blues With Punjabi Chole
Summer Recipe- Beat The Mid Week Blues With Punjabi Chole
By: Pinki Tue, 30 June 2020 3:30 PM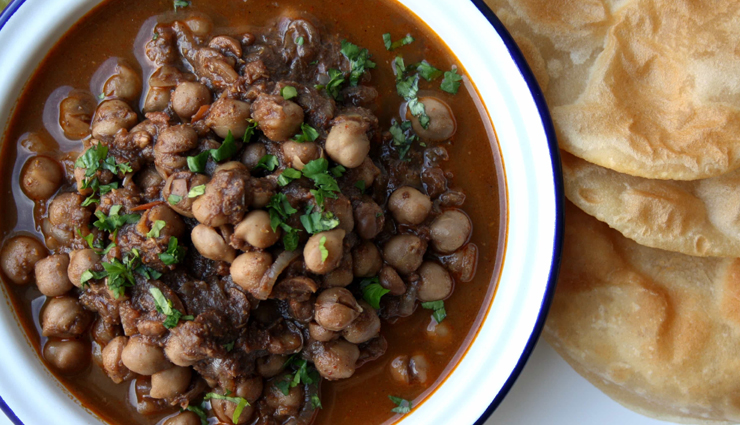 Punjabi chole masala or chana masala is one of the most popular curry dishes from India. In fact in north India no wedding or party is complete until you have chole masala on the menu. I remember whenever we would call someone over for lunch or dinner, mom would almost always make chole.

So what actually is chole masala? In this recipe, chickpeas are cooked with onions, tomatoes and lots of spices. A special blend of spices called "chole powder/masala" is easily available at every Indian store. One can make chole masala powder at home too by dry roasting ingredients like cumin, cloves, coriander, peppercorn, cardamom etc. But I usually get the masala from the store, saves me time and also tastes good.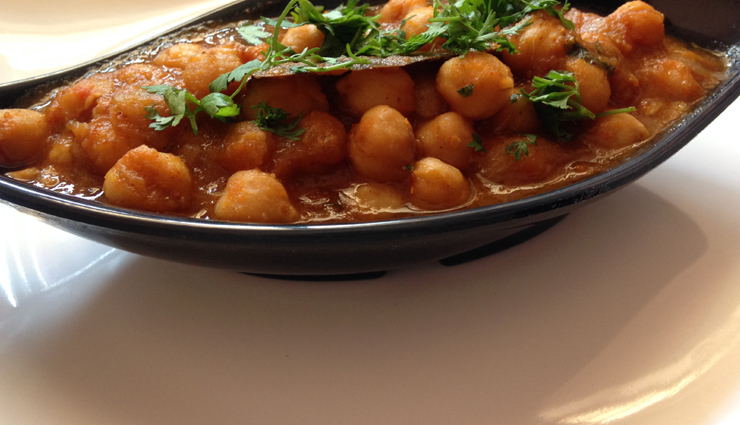 Ingredients

2 cups + 2 tablespoons raw chickpeas
5-6 green cardamom pods
4-5 black peppercorn
2 bay leaves
2 cinnamon sticks
2 tea bags
salt to taste
5 cups water
1 tablespoon oil
3-4 cloves
3/4 cup pureed onion from 2 small onions
2 teaspoons ginger-garlic paste
2.5 cups pureed tomatoes from 4 medium tomatoes
3 teaspoons chole masala
1/2 teaspoon red chili powder or to taste
1/2 teaspoon paprika powder
3/4 teaspoon cumin powder
salt to taste
1 tablespoon ghee
1 inch ginger cut into julienne
1/4 teaspoon garam masala
1/2 tablespoon crushed kasuri methi also known as dried fenugreek leaves
2 tablespoons chopped cilantro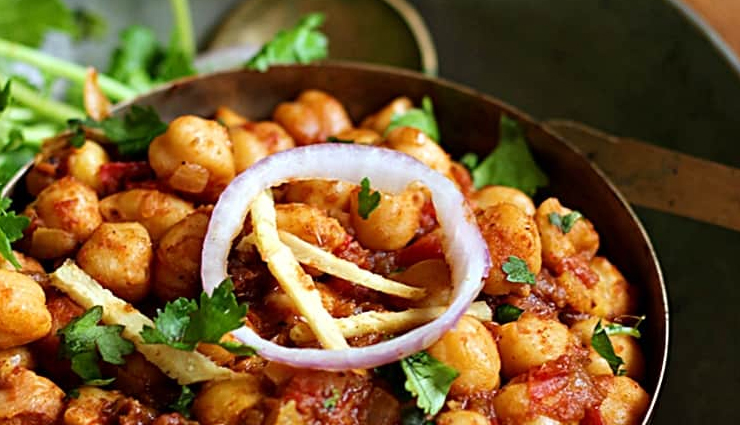 Method

* Soak the chickpeas overnight in enough water to cover them. In the morning, drain the water.

* In a pressure cooker add the soaked and drained chickpeas, 2 tea bags, bay leaves, cardamom, cinnamon stick, salt and 4 to 5 cups water. Pressure cook at high flame till you get 1-2 whistles. After that lower the flame to medium and let the chickpeas cook for another 10-12 minutes.

* In a wok, heat 1 tablespoon of oil. Once hot, add cloves and grated onions. Fry the onions till the raw smell goes away and they are light golden brown in color.

* Add ginger-garlic paste and cook for 3-4 minutes till the smell of ginger-garlic goes away.

* Now add the tomato puree , stir and let it cook for 12-15 minutes on medium-low flame. Cover the pan to prevent the splash all around.

* Add the chole masala, red chilli powder, paprika powder, cumin powder, salt and mix for a 1-2 minutes.

* Add the chickpeas next and stir will all the chickpeas are coated with the spices, around 2 minutes.

* Add water (which was used for boiling the chickpeas), cover the pan and let it simmer at medium-low flame for around 30 minutes. The gravy will thicken after 30 minutes so add water accordingly.

* To temper, heat 1 tbsp of ghee in a pan and the ginger julienne to it.

* Fry till the juliennes are golden brown in color but do not burn them. Add to the chole curry, mix and switch off the flame.

* Sprinkle some garam masala, kasuri methi and garnish with chopped coriander leaves.

* Serve with roti, paratha or plain rice.
Tags :