Home

›

Valentines Day- Treat Your Partner With Marshmallow Treats
Valentines Day- Treat Your Partner With Marshmallow Treats
By: Sandeep Mon, 12 Feb 2018 4:17:40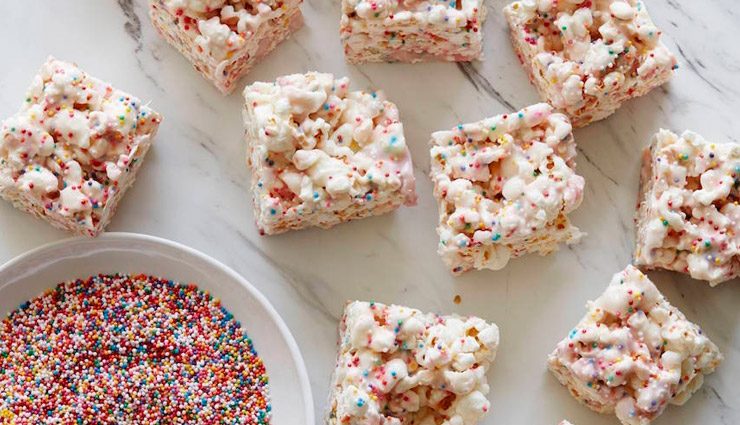 Dress up rice cereal hearts with frosting, pretzels, peanut butter, chocolate and other toppings for Valentine's Day sweets.

Ingredients

1/4 cup butter
1 10 - ounce package tiny marshmallows
1 13 - ounce jar marshmallow creme
2 teaspoons vanilla
1/4 teaspoon salt
7 cups crisp rice cereal

Method

* Line a 13x9x2-inch baking pan with foil, extending the foil over edges of pan. Lightly butter foil; set pan aside.

* In a 6- to 8-quart heavy Dutch oven melt the 1/4 cup butter over low heat. Stir in marshmallows. Cook and stir until marshmallows are melted and smooth. Stir in marshmallow creme, vanilla, and salt until combined. Remove from heat. Add cereal to marshmallow mixture, stirring gently to coat.

* Transfer cereal mixture to the prepared baking pan. Using a buttered spatula or buttered waxed paper, press mixture firmly and evenly into pan. Let stand until set

* Using the edges of the foil, lift uncut bars out of pan. Using a buttered long knife, cut into bars.
Tags :