Home

›

News

›

Rajasthan: Teacher Thrashed, Head & Face Blackened For 'Molesting' Girl Student In Ganganagar; Video Viral
Rajasthan: Teacher Thrashed, Head & Face Blackened For 'Molesting' Girl Student In Ganganagar; Video Viral
By: Pinki Mon, 18 Sept 2023 6:14:19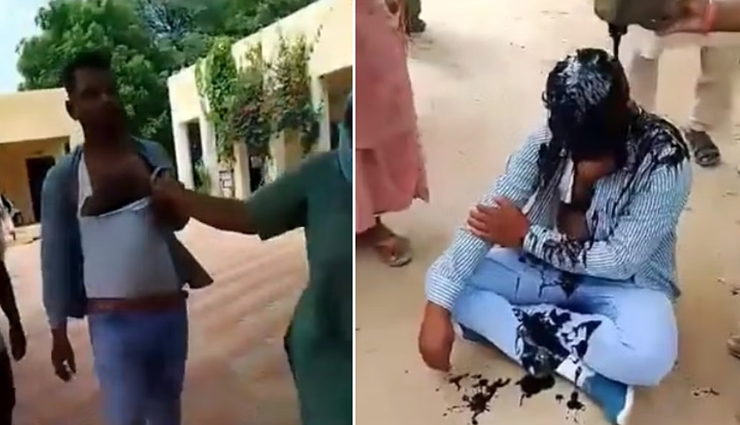 A government school teacher, accused of sexually harassing a female student, reportedly faced physical assault, including having his head and face smeared with black substance, by members of the student's family, as revealed by the police. The incident came to public attention after a video of the altercation circulated widely on social media platforms. This incident occurred in the Ganganagar district of Rajasthan, where the family of the student lodged a complaint against the teacher, Rajesh, alleging that he had molested their 16-year-old daughter.

Furthermore, the teacher, Rajesh, has countered these allegations by filing a counter-complaint, or cross FIR, against the family of the girl, claiming that he was physically assaulted. Sudha Palawat, the Circle Officer of Karanpur, explained that upon learning about the alleged harassment incident, the family members of the student confronted the teacher at the school and resorted to physical violence, which included smearing his head and face with a black substance.
मामला गंगानगर जिले का।
पहले महिला ने की चप्पल से पिटाई की फिर किया अध्यापक का किया मुंह काला।*गांव 7 डीडी में एक टीचर ने स्कूल में लड़कियों को करता था परेशान गांव वालों ने मिलकर अच्छे से की उसकी धुलाई और मुंह काला करके स्कूल से बाहर निकाला,, pic.twitter.com/M5SNPQYQPm

— Mαɳιʂԋ Kυɱαɾ αԃʋσƈαƚҽ 🇮🇳🇮🇳 (@Manishkumarttp) September 17, 2023
The Circle Officer mentioned that a case against the government teacher was officially filed on Saturday, with the teacher lodging his own counter FIR on Sunday. She noted that the matter is presently under investigation and that no arrests have been made thus far.