Home

›

99 Year Old Man Broke Swimming World Record
99 Year Old Man Broke Swimming World Record
By: Pinki Mon, 05 Mar 2018 9:32 PM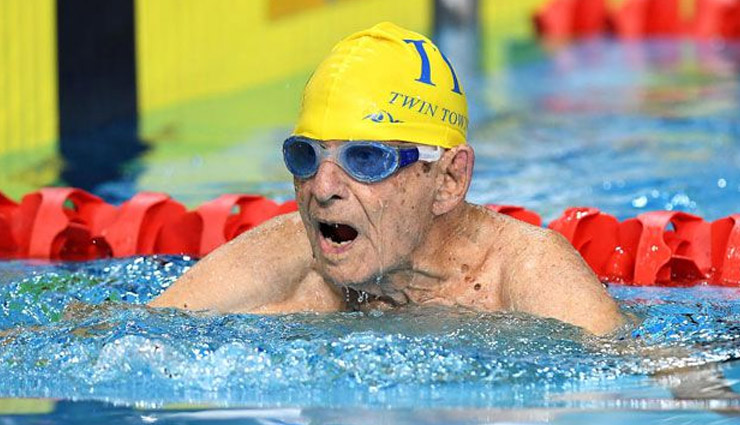 It's never too late to push yourself, and if you think that's not true, then let us introduce you to George Corones.

Corones, a 99-year-old Australian swimmer, appears to have broken the men's world record in the 100-104 age group for the 50m freestyle swim. (He turns 100 in April.)

Way to inspire, Corones!

"It was an exemplary swim for me, well balanced ... and I was ready to hit the [wall] at the end very hard with my hand," he told BBC News after his win on Feb. 28.

He completed the swim in 56.12 seconds during the Australian Swimming Trials for the Commonwealth Games. The previous record, set in 2014 by John Harrison, was 1:31.19. Corones' record is awaiting verification by the International Swimming Federation.

And before you think to yourself, "Well, sure, he's 99. I bet he's been swimming his whole life." Nope.

"I gave it up at the beginning of [World War II], and I don't think I had a swim of any description until I retired," he said.

Corones retired at age 80.

He does keep in practice, however, and he works out a fair bit, too. He swims laps about three times a week and even squeezes in a little bit of time at the gym.

"At this age it takes a while to get going ... you get exhausted much more easily, but if you do it sensibly, the rewards are astronomical," he said.

Corones isn't quitting any time soon, either. He's gunning for another one of Harrison's records, this time in the 100m freestyle, on March 3.

"I'm not a young man by any means, but I am really looking forward to it and confident I can do very well," he said.
Tags :