Home

›

Man Finds Lizard Inside His Sambar At Delhi Branch Of Saravana Bhavan; FIR Launched
Man Finds Lizard Inside His Sambar At Delhi Branch Of Saravana Bhavan; FIR Launched
By: Pinki Mon, 03 Aug 2020 12:16:27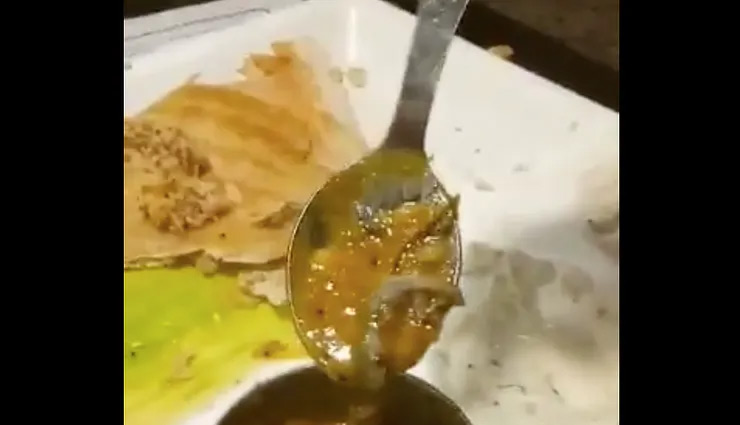 It appears that it's the restaurant's specialty. In New Delhi's Connaught Place, a viral video has come out of a popular South Indian restaurant where a diner is seen showing the staff a lizard that he found in his sambar.

In a video, which is being widely circulated on social media, two men are seen holding out the carcass of the lizard on a spoon; half-eaten food is visible in the background, NDTV reported. The men are seen yelling at who appear to be the restaurant staff. "I have eaten some bites (from the sambar bowl). Half of the lizard is missing," he says to the staff of the restaurant famous for its south Indian dishes.
A dead lizard found in sambar at most popular restaurant saravana Bhavan, Connaught Place (CP), New Delhi pic.twitter.com/yAwqBX7PvD

— Golden corner (@supermanleh) August 2, 2020
According to a report in India Today, the incident took place in Sarvana Bhavan. "The incident reportedly took place when complainant Pankaj Agarwal visited the restaurant in Delhi's posh Connaught Place area with his friends from Fatehpuri," the report added.

Later, a complaint was lodged over the incident and a case registered against the restaurant. Investigation in the matter has been started, police said.

Police have said they have asked for the CCTV footage from the restaurant. Details of the cook, ingredients used to make sambar as well as restaurant licence have been sought by the police.