Home

›

Weird Story- Chinese Mysterious Sky Graveyards
Weird Story- Chinese Mysterious Sky Graveyards
By: Pinki Mon, 12 Mar 2018 3:17 PM
A skull pokes out of a coffin made out of roughly hewn planks of wood, its smooth white surface catching the reflection of the winter light flooding into the dark cave.

It's one of about 30 caskets anchored on a limestone rock about 30 meters (almost 100 feet) up the side of a cave in Guizhou province in southwestern China. It could date back hundreds of years. The coffins, inside and out, are littered with fragments of clothes, bones and ceramics.

For three decades, Wong How Man, a Hong Kong-based explorer, has been hellbent on chasing coffins like these in gravity-defying graveyards across China in an attempt to discover more about this unusual burial custom.

Wong, who began his career as a journalist with National Geographic, first came across a group of coffins perched 90 meters (300 feet) up a cliff face in southern Sichuan, to the north of Guizhou, in 1985 during an expedition to track the Yangtze River from mouth to source.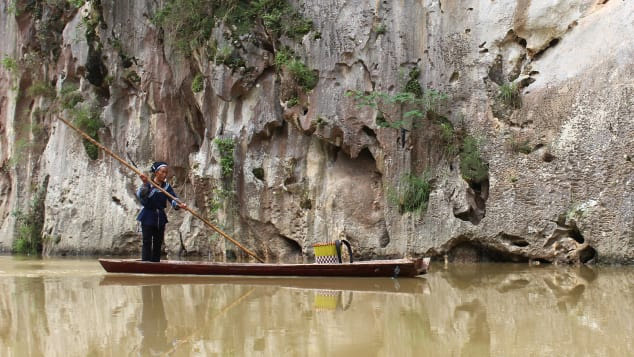 A life-long obsession was born.
"At first, it was simply how the hell did they get there and then I couldn't stop thinking about why," he says. "And there're so many theories."

Coffin-chasing

Hanging coffins, as they're known, are found across a swathe of central China -- mostly in remote valleys to the south of the mighty Yangtze River, which flows from the Himalayan foothills to China's eastern coast.

The coffins rest in a variety of formations, sometimes barely visible from the ground below. They're lined up in the crevices in the cliff face, balanced on wooden cantilevered stakes, placed in rectangular spaces hewn in the rock face or stacked high up in caves like those Wong saw on his latest coffin-chasing expedition to Guizhou.

The oldest are said to be in the eastern province of Fujian, dating back 3,000 years. There's no clear reason why this practice took place.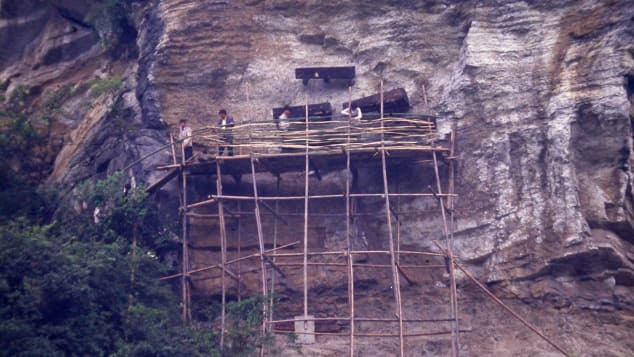 Ancient literature from the Tang Dynasty suggests that the higher the coffins were placed, the greater the show of filial piety to the deceased. Others say the reasoning was more practical: It prevented animals from poaching the bodies and kept land free to farm. New sites are still being discovered. In 2015, the People's Daily newspaper reported that a total of 131 hanging coffins were discovered in the central province of Hubei, placed in man made caves in a cliff 50 meters wide and 100 meters high.

"Experts haven't figured out how ancient people managed to transport the coffin, body and funeral objects together weighing hundreds of kilograms to the cliff caves," the report said.
Tags :