7 Tourist Places In Bhubaneswar To Admire Thriving Architectural Legacy
By: Pinki Fri, 15 Sept 2023 5:31:49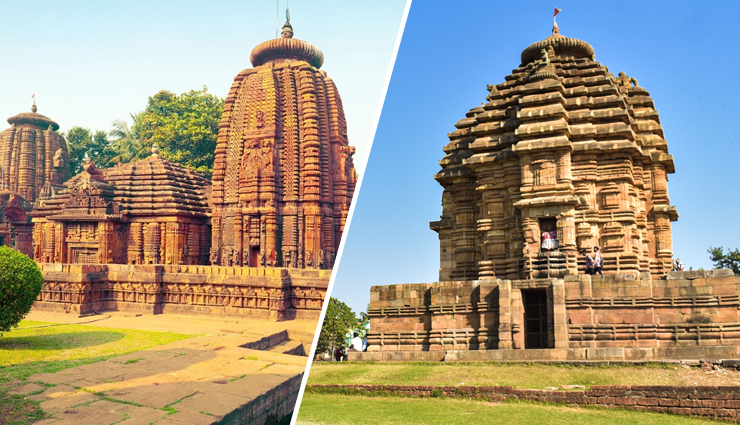 Bhubaneswar holds a special charm for numerous reasons. Most notably, it serves as the capital of Odisha and stands as one of the key highlights in Odisha's Golden Triangle, making it a subject of fascination throughout the year. What draws a significant crowd, however, are its ancient treasures, such as the 10th-century Lingaraja Temple and the nearby UNESCO World Heritage site, the Sun Temple of Konark. Furthermore, Bhubaneswar boasts a remarkable collection of temples constructed under various dynasties, particularly those dedicated to Lord Shiva.

To underscore the allure of Bhubaneswar's attractions, one might consider the words of the renowned travel writer Mark Twain. According to him, if Bhubaneswar were located in North India, it would undoubtedly be the most sought-after tourist destination in the country. This sentiment is not unfounded, as Bhubaneswar shares a profound architectural richness akin to Rajasthan, housing around 500 temples within its boundaries. Additionally, Bhubaneswar thrives as a hub of art and culture, and it holds the distinction of being one of the earliest planned cities in modern India, alongside Chandigarh and Jamshedpur.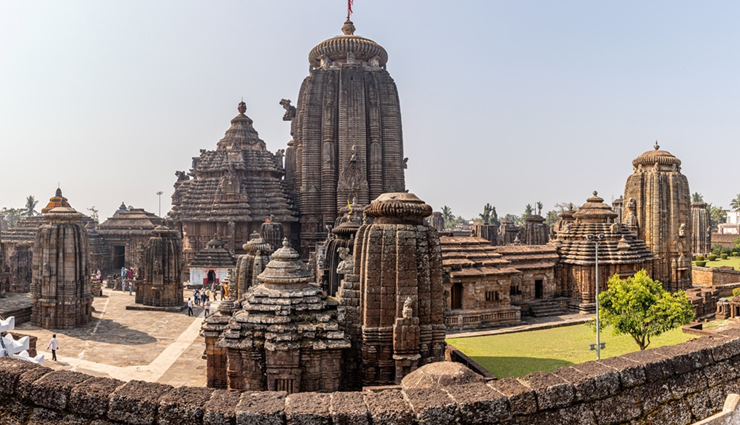 # Lingaraj Temple

Immerse yourself in a spiritual journey and seek enlightenment at one of the town's most ancient temples. The Lingaraj Temple stands as a prominent attraction in close proximity to the airport and railway station in Bhubaneswar. Dating back to the 11th century, this temple is a dedicated sanctuary for Harihara, the composite manifestation of Lord Shiva and Lord Vishnu. As devotees approach the temple's entrance, they are welcomed by statues of majestic lion with mustaches. Within the temple complex, you will discover approximately 64 small shrines, all adding to the temple's sacred aura. It's important to note that only individuals of the Hindu faith are permitted to enter the Lingaraj Temple.

For foreigners or non-Hindu visitors who wish to explore the temple, there's a convenient viewing platform located along the elevated compound wall, offering a fantastic vantage point. The Lingaraj Temple follows the distinctive Kalinga architectural style, constructed primarily from sandstone and laterite. The temple's walls are adorned with exquisite sculptures and intricate carvings, some of which depict elements of sensuality. It is during the festival of Shivratri that the Lingaraj Temple experiences a surge in visitors, with hundreds of tourists flocking to witness the festivities.

The Lingaraj Temple draws a considerable number of devotees each year, particularly during the celebration of Shivaratri. Pilgrims from all corners of the country congregate here to offer their prayers to the Lord. Chandan Yatra and Ratha Yatra are two other significant festivals observed at the Lingaraja Temple with immense enthusiasm and grandeur. It's worth noting that visitors are typically required to present a vaccination certificate as part of the entry requirements.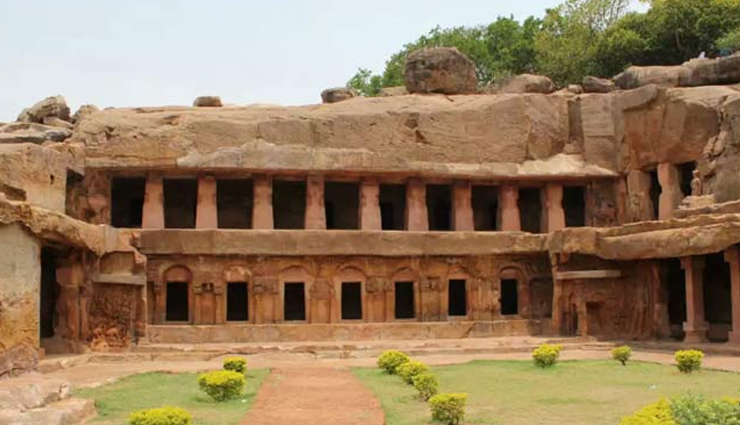 # Udayagiri And Khandagiri Caves

If you have a spare day or two and are seeking a unique and captivating experience, consider a visit to the Udayagiri and Khandagiri Caves. Situated on two adjacent hills, these caves rank among the finest historical attractions, just a short distance from the main town. What's more, the Udayagiri and Khandagiri Caves offer an ideal vantage point for witnessing both sunrise and sunset, thanks to their elevated hillside locations. In total, there are 33 rock-cut caves in this area, with 18 found on the Udayagiri hill and 15 on the Khandagiri hill.

These remarkable caves, constructed during the 2nd century BC under the patronage of King Kharavela from the Meghavahana dynasty, were originally intended for Jain monks to use as places of meditation. Although there were originally supposed to be 171 caves, only 33 have endured the test of time. It's important to note that the Udayagiri Caves are now under the jurisdiction of the Archaeological Survey of India (ASI) and require an entrance fee, as they are recognized as a ticketed historical monument. And if that isn't enticing enough, the cave's surroundings are enveloped by lush green gardens, creating an inviting setting for a relaxing picnic.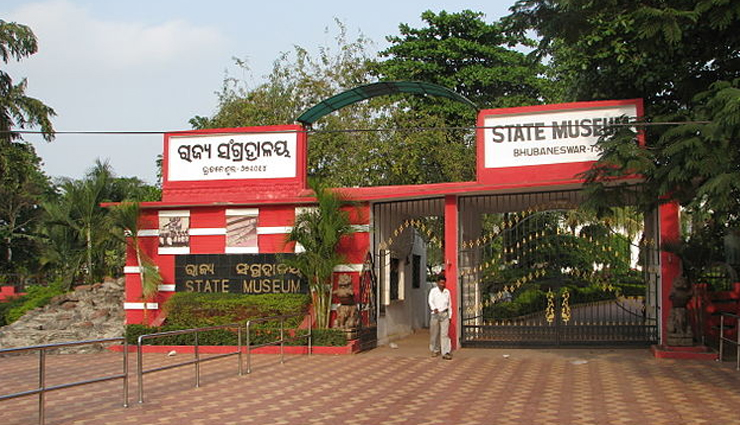 # Odisha State Museum

True to its name, the Odisha State Museum is a veritable repository of the state's history. Established in 1932, it stands as a premier destination for those seeking to glimpse into Odisha's historical narrative spanning various epochs. This expansive museum comprises a complex that hosts distinctive galleries, each of which is intertwined with unique histories, showcasing ancient weaponry, Buddhist and Jain artifacts, and rare palm-leaf manuscripts.

Upon entering, you'll encounter a children's park complete with rides, making the Odisha State Museum a top-notch destination for families visiting Bhubaneswar with kids. Regardless of the season, a visit to the Odisha State Museum is a worthwhile endeavor since it provides a sheltered haven for exploration. One thing is certain: a few hours within its walls will leave you captivated by the rich culture, heritage, and history of Odisha.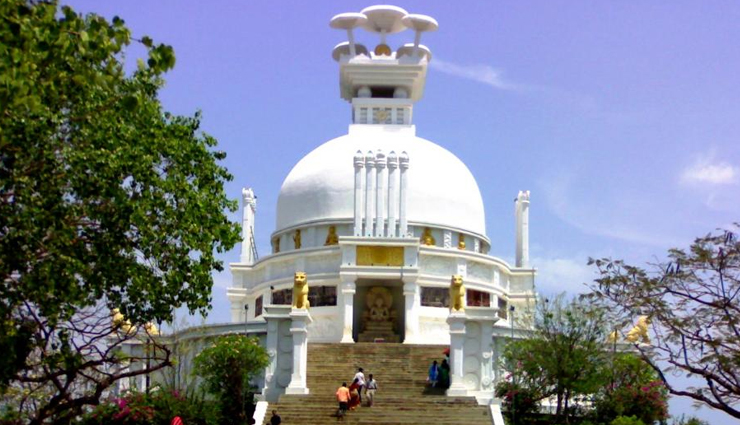 # Dhauli Shanti Stupa

Undoubtedly, a Stupa holds a revered status as a sacred Buddhist monument, and the Dhauli Shanti Stupa is no exception. Situated on the Dhauli Hills, overlooking the Daya River, this Stupa derives its name from its location. It stands as a sacred Buddhist site located just a few kilometers outside the main town. Often referred to as the Peace Pagoda or Dhauli Shanti Stupa, this structure takes on the form of a dome, adorned with stone panels depicting the footprints of Lord Buddha. Additionally, its dome is adorned with five umbrellas, symbolizing the five fundamental teachings of Buddhism.

After dusk, a captivating Light & Sound show unfolds, featuring state-of-the-art projectors and laser beams that illuminate the Stupa. Consequently, the Dhauli Shanti Stupa emerges as the premier nighttime tourist attraction in Bhubaneswar. The 3D projections during the Light & Sound Show lend an extra layer of grace to the spectacle. This immersive event provides insights into Emperor Ashoka's embrace of Buddhist beliefs, along with the historical narrative of Kalinga and the Mauryan empire.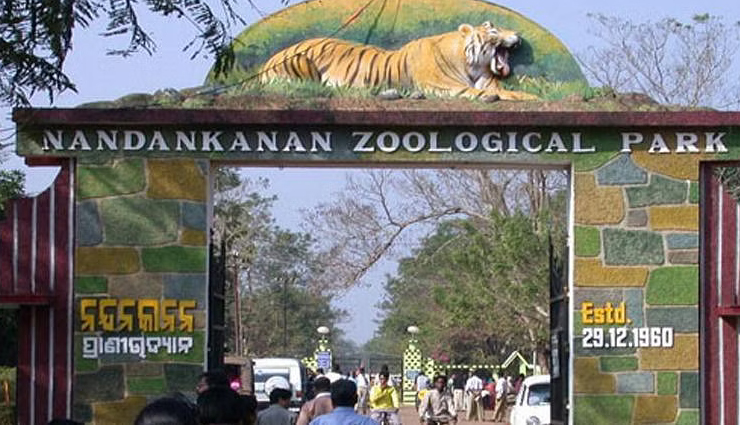 # Nandankanan Zoological Park

Nandankanan Zoological Park ranks as one of the prime destinations for a one-day excursion in Bhubaneswar. True to its name, it is a sanctuary where an array of wild creatures is showcased for public enjoyment. Situated within the sprawling Chandaka Forest, Nandankanan Zoological Park lures countless tourists in Bhubaneswar who seek to witness the diverse flora and fauna thriving in their natural surroundings. Since its inauguration to the public in 1979, the zoo has expanded to cover an extensive 437 hectares. Among the notable wildlife experiences at Nandankanan Zoological Park are the White Tiger Safari and the Herbivore Safari.

This remarkable destination houses approximately 156 species of animals. What sets this zoo apart from others in India are several distinctive factors. Firstly, it holds the distinction of being the first zoo in India to gain membership in the World Association of Zoos & Aquariums (WAZA). Secondly, since the 1980s, it has played a crucial role as a breeding ground for the endangered Gharials. Lastly, it's worth noting that Nandankanan Zoological Park is the sole zoo in India that provides a habitat for creatures like the Open Billed Stork and Orangutan.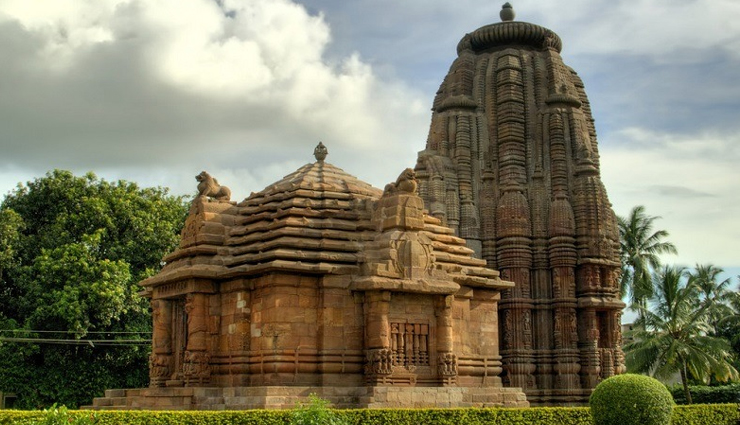 # Rajarani Temple

In a city renowned for its abundance of temples, it's only natural to encounter a plethora of them. Among these, the Rajarani Temple in Bhubaneswar stands out as a noteworthy Hindu temple, celebrated for its intricate sculptures depicting amorous poses. Its foundation is crafted from sandstone, and it offers a visual delight with its captivating Kalinga architectural style. Originally dedicated to a queen by a 10th-century Indian monarch, this temple was initially consecrated to Lord Shiva. However, at present, it does not house any deity idol; instead, it enthralls visitors with its exquisitely detailed rock carvings.

Surrounded by meticulously maintained verdant gardens, the Rajarani Temple provides an excellent backdrop for photography enthusiasts in Bhubaneswar. If you're planning to make the most of your visit to Bhubaneswar in January, consider attending a Music Festival where renowned musicians and thousands of music aficionados converge to celebrate their passion under one roof.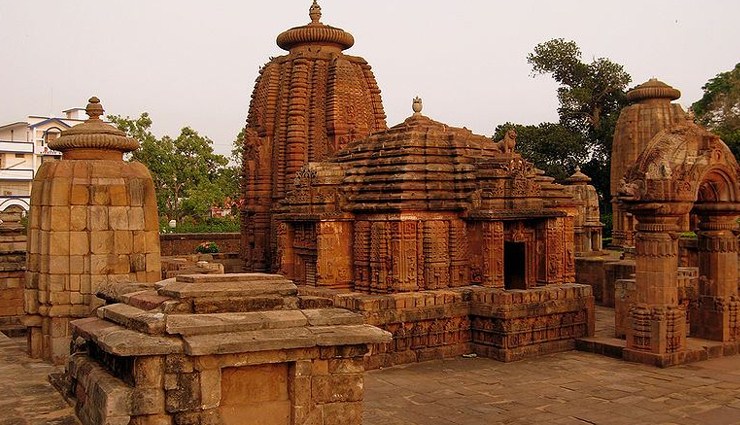 # Mukteswara Temple

The Mukteswara Temple is dedicated to Goddess Saraswati, Lord Krishna, and Lord Shiva. It is a shining example of Orissan architecture and, therefore, ranks among the top family-friendly tourist attractions in Bhubaneswar. This temple, dating back to the 10th century, offers a captivating experience with its intricate carvings that encompass elements of Buddhist, Hindu, and Jain architectural styles. Additionally, in the vicinity, the nearby Raja Rani Mandir features the enchanting figure of the Snake Queen (Naga Rani), resembling a mermaid.

Within the temple complex, you'll discover several smaller shrines, each housing 2-3 Lingams of Lord Shiva. The temple's spire soars to a height of 35 feet, and the sculptural craftsmanship adorning its walls is truly mesmerizing. Notably, the archway (Torana) at the entrance bears the unmistakable influence of Buddhist sculpture. The Archaeological Survey of India (ASI) meticulously oversees the preservation of this magnificent architectural treasure. Consequently, the Mukteswara Temple, with its stunning backdrop, makes for an exceptional spot for photography, showcasing its unique charm in the heart of Bhubaneswar.